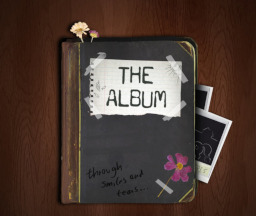 You heard right, friends and fellows--The Album 2 has been begun! Sign up today!
---
Interested in joining more collabs? Then come to The Collab Cage! A group that hopes to be ALL things collab for this entire fandom!
---
The Album is a collaborative project between over seventy different authors. This project was designed to not only create something entirely unique and creative, but to test these authors to write in a different manner than they might normally be used to. The exercise was to take a single character--one per author and no repeats--and imagine a mental 'snapshot' of them during daily life, during a Moment we might not normally see or even think about, and write a story from said picture. So enjoy this collection of short Slice of Life tales--and be sure to check out each author's page and stories. They've worked hard to produce something amazing; please reward them for their effort!
Note: Individual Snapshots are posted in a random order (including my own), with one or two more added per day. Character tags and Rating are subject to change, but each individual snapshot will be marked appropriately.
There's still room for more; visit The Album and see if there's anypony remaining you would like to write.
Cover made by: Skunkiss
Edited by: Peregrine Caged
---
Synopsis:
In anypony's life, there are the big days--tragedies and adventures, moments of loss and love, treasured memories to share and never forget.
But for every single day that comes once in a lifetime, there are hundreds that pass by unnoticed. Sometimes the simplest of moments can have just as much importance and life as the dramatic ones.
Here one can find snapshots of these moments--the every day, often unseen or even unregarded days of the lives of a variety of ponies.
Because every picture, no matter how common, is worth a thousand words.
Chapters (68)