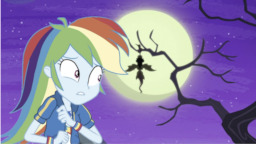 Rainbow Dash isn't sure what's going on, why it's happening, or even what species she's supposed to be. All she knows is that it's Nightmare Night and Ponyville has gone crazy.
Crazier than usual.
In a bad way.
Point is, it's a problem, and she's going to fix it... somehow.
Honorable Mention in the Transformation group's Autumn Pony-to-Human TF Contest.
Chapters (1)