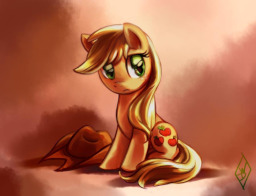 Main Plot: Applejack tells her family and friends that she is gay.
In her youth, Granny Smith was part of the movement giving marriage rights to interracial couples. Could you believe that, just forty years ago, many ponies considered it taboo for a relationship to exist between a unicorn and pegasus? Nowadays it's a different story: interspecies marriages happen all the time, and nopony bats an eyelash... as long as they are different genders. It seems that since then, the prejudice has shifted direction towards gay and lesbian couples now.
Lyra and Bon Bon are victims of this prejudice firsthoof, but regardless, they still got married a couple of weeks ago. Upon their return, Mayor Mare- an avid supporter of gay rights- finds herself swarmed with grievance letters from the handful of homophobic ponies living in Ponyville, which she addresses at a town meeting. The meeting... doesn't go so well. As differing viewpoints clash, many are caught in the crossfire, and buried secrets are revealed.
Friendships and loyalties will be tested, but others strengthened.
Romance tag for Applejack, LyraBon, and DerpTurner (aka DerpyDoc)
Rated Teen for allusions to sex. I will eventually write clop scenes (mostly LyraBon), but not right now.
Cover art by WhiteDiamondsLTD on Deviantart
Chapters (3)