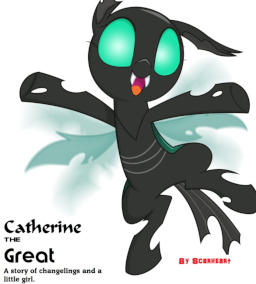 Follow Speaker and his changeling brothers and sisters who, after the events of Canterlot, took it upon themselves to find a new queen. They found a portal in a deep cave and went through it, questionable circumstances aside. Now they find themselves in a world full of humans, and with a new queen!
Meet Catherine and her family as they cope with a gaggle of shape-shifting creatures who really do just want to fit in and be loved.
The problem is, Catherine's parents are not very keen on their daughter chosen to be the new Queen of the Changelings.
And the cat has gone missing.
Some chapters will have musical numbers in them!
The story that inspired the two short stories that lead up to this one!

FimFic Authors are In Your Bed by Admiral Biscuit

Which two stories, you ask?

Link to Estee's short story is here.

Link to my short story is here.
Chapters (19)