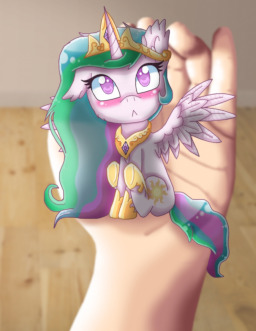 Source
So you know how that whole My Little Pony: Friendship is Magic show is going on? You know, the show for little kids that's basically a marketing ploy for toys?
Well, I found one of those toys while I was walking. It had colorful hair, a white coat, wings, and a horn. I wanted to give it to my sister as a gift.
Then apparently the toy is possessed by demons who claim to be Princess Celestia from the show. Either that or the real Princess Celestia figured out how to cross the divide between dimensions and just likes to visit me and cause problems in a body that fits in my hand.
Whatever the case may be, just remind me that I need to call my therapist later.
---
A Pony on Earth story that started with a conversation about Toy Story and this picture.
Art credit to polishcrossoverfan.
Chapters (7)