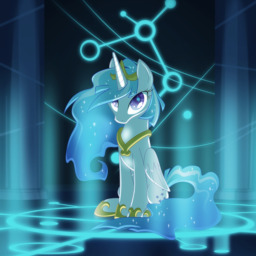 Source
This story is a sequel to Arête - Princess Alicorn of Hackers
---
The Dream-Web — a virtual dream world utopia, maintained by the Starswirl Conglomerate, for ponies and other species to explore and enjoy. Or so the advertisements claim.
Behind the flashy facade battles rage between dream-hackers and the divisions of the Conglomerate for control of this virtual marvel.
Twist, a Starswirl intern, stumbles upon information about an ominous cult that has infected the Dream-Web with King Sombra's essence and plans to bring him back to life. Targeted by cultists, hackers, and competing colleagues alike, Twist must shuffle between her real and professional life as she investigates both worlds in an attempt to prevent the return of the King from happening.
Art by Equestria-Prevails
The story starts place shortly before the events in Arête - Princess Alicorn of Hackers takes place.
Marked AU because of season 5 episode 18 - Crusaders of the Lost Mark.
Special thanks to Elric of Melnipony, Swan Song, Doccular42, and Kaelenmitharos for pre-reading and advice.
Special thanks to Malefactory for editing.
Chapters (8)