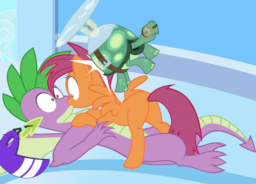 Change only becomes frightening when it begins to affect you.
Spike has remained a baby while everyone else is growing up. His desire to do the same, however, lands him in a hospital bed with a strange new body.
Ponies are treating him differently, the world he once knew is no longer the same, and the onset of sudden changes are hard to adapt to. Fortunately, Scootaloo is there to ease him through his recovery.
---
Audio reading made possible by star912.
This story would be unreadable were it not for the editing master, Props, the handy-dandy proofreader, CitrusFizz, and man who has three pairs of eyes, Setokaiva.
Dedicated to Spike pimp himself, FamousLastWords.
Chapters (4)