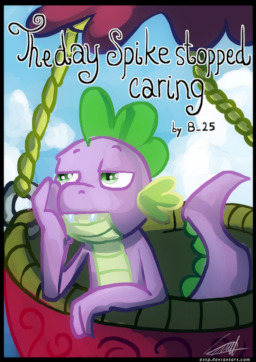 Source
This is the tale of a drake craving freedom.
Spike wakes up every day to a nagging roommate. His days are spent doing chores he neither likes nor dislikes. And, to make matters worse, Rarity's heart is still as distant as ever.
So he stops caring for a day.
---
Spike Stopped Caring cover done by the wonderful, 2135D. Please check him out; his art is better than my stories.
Edited by gaming goof, Diamond Brook, along with the ever so mysterious, Silent Watcher, the new and improved, Obsidian Shard, and tea drinker, Vexy.
FamousLastWords calls the story: "Swag."
Chapters (4)