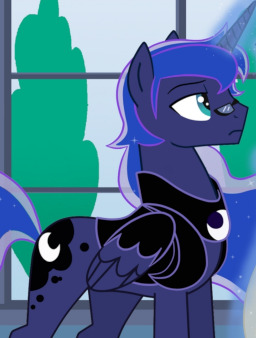 Source
An artifact causes an incident where Luna's gender switches, and she becomes prince instead.
Evidently, Luna turned out to be a handsome prince. Now having to deal with confused and judging nobility, lots of mares vying for the Prince's affection, the paparazzi eager to get more scoops on the new lunar prince, and a sister who seems to want the prince to stay judging by how she sees the entire situation hilarious, along with her pranks and quips, Luna will have to work hard with Twilight to solve the mystery of Starswirl's Sphere and hope that she can return back to a normal life.
---
Art by jaquelindreamz.
Originally written by Kuairu.
Chapters (3)