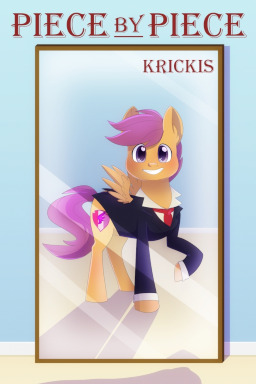 This story is a sequel to In Pieces
---
Everything is going well for Scootaloo. She has the best friends anypony could ask for, an awesome older sister, and a wonderful and sweet boyfriend. Some days, it feels like she has everything.
So then what's wrong with her that she hates being herself so much?
---
A story set in the Who We Become series.
---
Content warning: Although overall positive, this story contains issues relating to gender identity which may be dysphoria inducing to some readers.
Thanks go out to Eddie Grammar, Moonlight, Wendy Gowak, and TeamSpen210 for proofreading.
Cover art by Adgerelli.
Chapters (6)