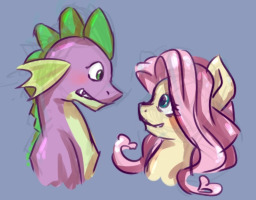 Source
Spike shows up on Fluttershy's doorstep at the crack of dawn, professing heartbreak and asking for a shoulder to cry on. Fluttershy does as every pony should: she makes him a pot of tea, and sends him off to bed.
This is the story of where that takes them.
This turned out to have three endings. In order they are Bad, True, Happy, and have been placed in the story where they would have occurred had I written them 'in flow' if you will. They are not tied to each other and you only need to read the one you want to get an end to the journey. Thank you to everyone who supported this to the end. It was a lovely trip

Cover art gratefully borrowed from Airy, over on Tumblr. Give a peek for more cuties

Featured briefly on 12/22/16! Thanks all, for the wonderful Christmas gift!
Featured briefly every time I actually update! You guys have no idea how happy that makes me, thank you so much!


Chapters (43)