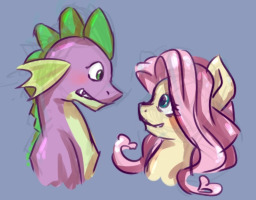 Source
Spike shows up on Fluttershy's doorstep at the crack of dawn, professing heartbreak and asking for a shoulder to cry on. Fluttershy does as every pony should: she makes him a pot of tea, and sends him off to bed.
This is the story of where that takes them.
Updates are gonna be weird, I blame meds.

Updates slightly more regular, hopefully it keeps up.
Cover art gratefully borrowed from Airy, over on Tumblr. Give a peek for more cuties

Featured briefly on 12/22/16! Thanks all, for the wonderful Christmas gift!
Featured briefly every time I actually update! You guys have no idea how happy that makes me, thank you so much!


Chapters (37)