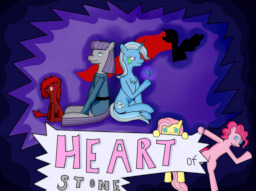 Trixie Lulamoon has led a hard life, especially after the events of her magic duel with Twilight Sparkle. Now trying to piece herself back together, can she learn the meaning of friendship from her first real friend, Maud Pie? What kind of events will happen between these two ponies? Can Trixie get through to Maud's heart? Will Trixie learn the true meaning of Friendship?
Special thanks to Crow for all the help.
There is a direct sequel up already called Heart of Stone: Recovery Light. Check it out here!
(This story is currently going through revisions.)
Chapters (129)