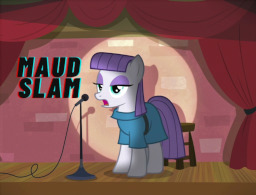 Invited to a special six-performer poetry slam competition, Maud Pie hopes that she'll be able to share her writing with an excited and accepting audience, and possibly even win. But when an old acquaintance, whose talent is specifically tailored for the creation of poetry, throws her confidence into disarray, doubts begin to settle in Maud's heart.
Will Maud be able to overcome her fears and perform? Or will she choke before the first line is uttered?
---
Won first place in the A Change of Pace Competition. Pre-read graciously by Nailah and applezombi.
Featured 10/20 and 10/21!
Chapters (4)