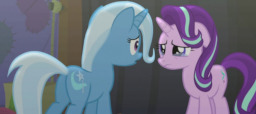 Source
(Takes place after "Rock Solid Friendship". Proofread by yodajax10 on FiMFiction and Smity1038 on Deviant Art.)
Starlight has put up with a lot having Trixie as a friend. Nopony ever said friends were perfect, and Starlight has been willing to give Trixie the benefit of the doubt for some time now.
But after Trixie accidentally infects Starlight with poison joke when she doesn't listen to Starlight's warnings, Starlight starts to question if being friends with Trixie is really worth it, and threatens to break off their friendship if Trixie can't learn to listen.
While Maud tries to help Starlight calm down and reconsider her actions, Trixie seeks help from Twilight to figure out how to best apologize to Starlight and show that she's changed. But are Maud and Twilight up to the task of healing a broken bond? Or will Trixie lose her closest and best friend?
Chapters (1)