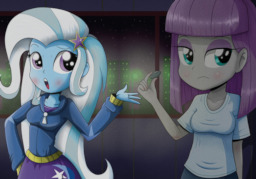 Source
Maud's family is planning to go on a week long vacation. However, this means Maud needs someone to take care of Boulder while she's gone. And apart from her sisters, Maud has very few friends to ask, or that she trusts with him.
Trixie's available, and more than eager to help her 'Maudie'. But, can Trixie overcome her laziness to properly handle Boulder? Can she think of Boulder as more than just a rock? And will she ever get that kiss she thinks Maud owes her?
No, maybe, and again, no.
Edited, proofread, marginalized, italicized, and lobotomized by Crowscrowcrow.
Order:
Stonewalled at the Spring Fling
Sitting on a Rock
The Quartz Quartette Quarrel
Cracks Along the Prism
Dat-O-Lite
Maud's Boulder Holder
Chapters (1)