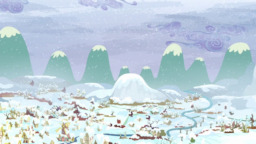 This story is a sequel to Princess Twilight Sparkle's School for Fantastic Foals
---
The Gift of Gab is recommended reading.
---
School may be out, but lessons continue for Sumac Apple. Life in Ponyville slows down as the snow grows deeper, and with winter comes a much needed respite for everypony. With two families joining together to double the fun, Sumac Apple will have an almost perfect holiday.
Of course, families of any sort tend to have their own moments of excitement, and then there is the matter of Megara...
An entry in the Weedverse.
Chapters (50)