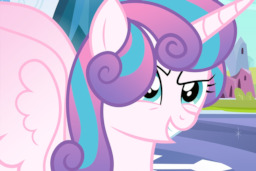 Source
This story is a sequel to Princess Flurry Heart Versus the Mud Monsters
---
The Crystal Cotillion. Hobnobbing aristocrats, snooty nobles, and the upper crust of the upper crust. This strange and unfamiliar battlefield is where Flurry Heart finds herself fighting a war that she doesn't understand. Thankfully, she is not alone and there are allies who will come to her aid.
A crazed Vizard, Professor Egghead, and a perverted earth pony filly: these three are her only hope, her only chance at being free. Her enemies are many, including most of the aristocrats in attendance (whose views on society are one-thousand years out of date) and her younger sister, bratty little Princess Goody Fourshoes.
An entry in the Weedverse.
Chapters (15)