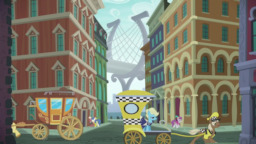 This story is a sequel to Princess Twilight Sparkle's School for Fantastic Foals: Winter Break
---
It was a day like any other. Spring was in full bloom and with spring came Sumac Apple's sixth birthday. Alas, the day that he'll always remember will turn into the night that he can't forget. When night comes, so too come invaders to the peaceful, quiet city of Ponyville.
When Grogar's agents of darkness come to foalnap a sorcerer, the fight for Equestria's very future begins. In the span of one terrible night, the fate of a nation and the many who live there will be forever altered.
As always, there is a lesson to be learned.
A troubling entry in the Weedverse.
Chapters (16)