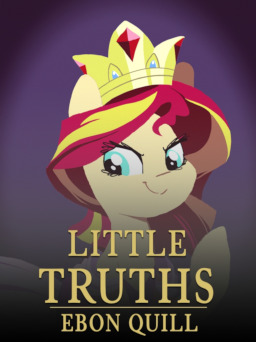 Source
New student Lemon Hearts has come to Celestia's School for Gifted Unicorns to begin again. Thanks to a kind stallion named Green Fields and the careful tutelage of Sunset Shimmer, Lemon Hearts is going to do what no first-year student has done before.
She's going to be a Princess.
---
Historian's Note:
Set in Novel Idea's Wavelengths timeline, wherein the Sonic Rainboom didn't happen, the events of Little Truths occur eighteen months before The Alchemy of Chemistry, during Sunset Shimmer's third year.
---
Cast: Lemon Hearts, Sunset Shimmer, Green Fields
Guest Stars: Raspberry Tart, Dean Silver Slate, Minuette, and Twinkleshine
---
Third-Place Finisher for FanOfMostEverything's Imposing Sovereigns contest!
Featured on EQD on April 11th, 2017!
Cover art by Novel Idea
Sunset Shimmer art by Karzahnii
---
Beta Reader Credits
Novel Idea, who inspired both entry and submission
Beltorn, who waited patiently
Little Tinker, who could give ninja lessons
Chapters (7)