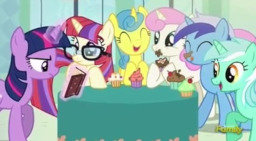 Years have passed since the Crystal War ended. Twilight Sparkle visits an old haunt to spend some time catching up with her friends. Then comes the question of who picks up the tab.
---
This story follows the alternate universe canon wherein Equestria fought in a state of Total War against Sombra's Crystal Empire.
As a Memorial Day Tribute, this story is dedicated to all those who have served, especially those who made the ultimate sacrifice. For any veterans living with trauma, I've placed a link here for the veteran helpline. There is no shame in needing to talk to someone.
---
Folks were kind enough to submit this to the Royal Canterlot Library. Thank you to everyone responsible for adding it. I'm grateful that you found in it something meaningful.
My Little Pony and its contents are the property of Hasbro, Inc. and its affiliates. Please support the official release.
Chapters (1)