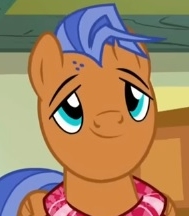 This story is considered canon for A 14th Century Friar in Celestia's Court, but may be read as a standalone.
---
Spearhead was a guard. Had been for years. He'd gone through the Academy with Shining Armor, seen action against bandits in the border territories, even served a stint in the Royal Expeditionary Force. It was good work; a noble calling. He loved being a Guard.
Spearhead was an artist. Sure, it might not have been his special talent, but he'd been creating avant garde art for as long as he'd been training with spears. He was planning on going back to school to pursue a career in art. He didn't want to stop being a Guard to make art, at least not yet, but he did wonder about the future, when he wasn't so fit or wanted a change of pace. But it wasn't an immediate issue. He still had years of service ahead of him, after all, and there was no reason not pursue art on the side. Plenty of soldiers had hobbies, and Spearhead was content to let the future look after itself.
Then, the day his buddy was supposed to be getting married, an invading swarm of Changelings broke through the city's shield, which did not sit will with Spearhead, to say the least.
This is a tale of the Battle for Canterlot, and of one guardpony whose life would be forever changed by it.
---
The character of Spearhead intrigued me. From the brief bit that we see of him in Season 7, he seems like a standup guy, even if he's not quite all there. I felt he merited fleshing out. This story is rated 'Teen' for violence, though I don't plan on making it gory.
My Little Pony and its contents are the property of Hasbro, Inc. and its affiliates. Please support the official release.
Chapters (4)