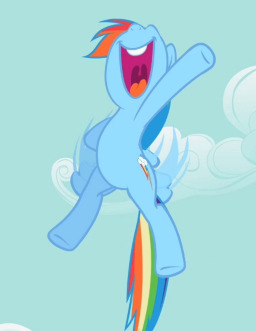 Rainbow Dash is used to doing dangerous things. Deadly stunts? That's just a normal workday. But illness is something worse. Something scarier. Something she can't control.
So even though the diagnosis turns out benign, her brush with mortality has still left Rainbow feeling...
Unfinished.
Time to take a look at her bucket list. But when a mare has already mastered the skies, what more is their to reach for?
The sun itself?
First place in a Quills and Sofas Speedwriting contest.
Pre-reading and Editing by ninjadeadbeard, as well as the contest participants Bachelor-ette, dziadek1990, Vis-a-Viscera, wishcometrue, PearlescenT, and The Hat Man.
Chapters (2)