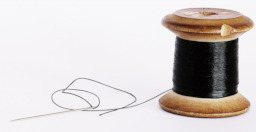 Source
In a small outpost near the war front with the griffons, a young apprentice tailor named Needle Point learns the ins and outs of living this close to a large military camp.
Specifically, the dangers of becoming romantically entangled with a soldier pony.
But youth is the perfect time to break rules and make mistakes. Especially when the cutest military medic ever drifts into Needle Point's shop, looking for some thread.
A side story for Rekindled Embers. No knowledge of the other story is necessary to enjoy this one.
Written for a Quills and Sofas Speedwriting event.
Chapters (1)