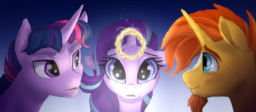 A short while ago, Dusk Shine and Sunburst finally got over their awkwardness and married. Starlight worked hard to make sure her best friends found love with each other. But now she's feeling empty.
It's not so comfortable being a fifth wheel.
Meanwhile, Dusk and Sunburst seem to barely notice, so caught up in the scientific and magical discovery they seem Tartarus-bent on making. They lock themselves in their lab for hours.
What could they possibly be working on? And what could be more important than their friend's growing discomfort?
AU tag for Dusk Shine (Genderswapped Twilight Sparkle)
Written for the Quills and Sofas Hearth's Warming gift exchange, 2021, for Syke Jr.
Cover art by the incredibly talented Shaslan, commissioned by Syke Jr!
Chapters (4)