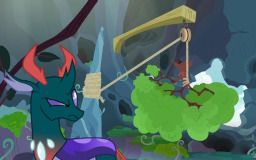 Pharynx is still coming to terms with all the changes, both to the Hive and to himself. While Thorax leads his people into the bright new future, Pharynx is desperately trying to keep the Hive safe.
Is it so wrong to worry about each and every member of his Hive family even while the rest of the Hive is buzzing over holiday festivities? Especially the one member of his Hive studying abroad at the School of Friendship?
Thank you to ninjadeadbeard for help with the cover art, and daOtterGuy for pre-reading.
Written for CitreneSkys for Jinglemas 2021
Chapters (3)