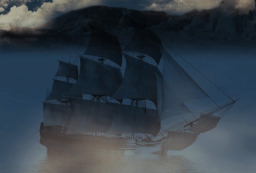 Source
River the zebra took pride in her work as an agent of Customs and Immigration in Jubilation, the largest port of the Free Zebrica Republic. She didn't mind the paperwork, and quite enjoyed the company of her coworkers (even though one was a bit flirty, especially for a widower nearly a decade younger than her).
What changes might come when an unscheduled group of refugees arrive, seeking safety and a new home?
This is a Rekindled Embers side story. No prior knowledge of the main story is necessary to enjoy this one. However, if you wish a brief summary: It has been a thousand years since alicorns vanished from Equestria, which is now ruled by a bigoted, tyrannical theocracy.
Written as part of a speedwrite event for my friend Nailah, held on her Discord server.
Pre-reading and Editing thanks to several different writers, including Holtinater, Stinium Ruide, Nailah, Queen Chrysalis Forever, Atom Smash, and Nano Discussions.
Chapters (1)