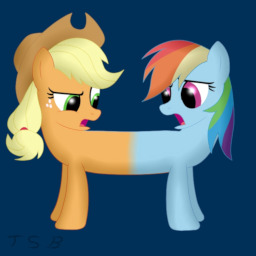 After defeating a villain, Applejack and Rainbow Dash wake up to find that they've been cursed by the said villain to be stuck together forever.
Twilight has a solution - just not one they want to hear.
---
This is written for applejackofalltrades as a Hearthswriting gift!
Art is drawn by the talented Sleepless Beholder, thank you so much for the art and help with editing!
Edited by Dewdrops! Thank you for helping with some of the ideas in the story too!
Chapters (1)