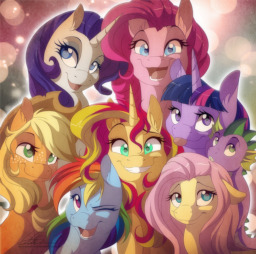 Sunset Shimmer had everything. Personal protégé of the Sun Princess herself, top marks in the School for Gifted Unicorns, and the honor of being dubbed the greatest arcanist since Starswirl the Bearded.
Until she threw it all away.
In the last moments before leaving Equestria forever, her destiny is snatched away right before her eyes. Once upon a time the story of the lives of herself, Twilight Sparkle, and the path of Equestrian History went one way, a story that we all know well. But in every stand of woods there is a path untrotted, one with a different story and new experiences.
Discussion of this and other works can be found on my Private Discord Server
New cover by DVixie. If someone knows how to contact them I'd be appreciative. It more accurately portrays the current evolution of the story.
Arc One, Filly Steps: Complete.
Arc Two, What Twilight Learned Today: In Progress.
Chapters (25)