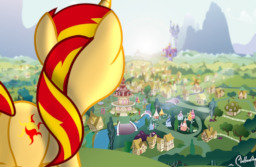 This story is a sequel to Time Goes On
---
After reuniting with her best friend, Sunset Shimmer has decided to do the one thing that will ensure Twilight will never forget her again: move in with her.
Now it's a simple matter of reconnecting with the mare who stole her heart, learning the ropes of her new home, and continuing her study of magical artifacts... And, perhaps, making new friends as well. All while dealing with all the surprising perils that seem endemic to Ponyville. But none of that could possibly be a problem for a pony as great as Sunset Shimmer, right?
It's going to be a long year.
---
Cover art by ShutterflyEQD
Featured on May 3, 2018!
Chapters (12)