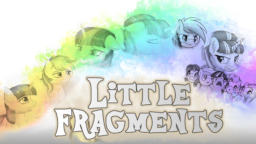 When a young Rainbow Dash spotted a mysterious alicorn and unicorn from the future, history was changed. Events and lives both big and small have been irrevocably altered, for better and for worse.
This story is an anthology of side stories set in the Little Flashes series, which started with Little Glimpses. None of the material in this story is considered mandatory reading to enjoy the series itself and exists mostly to provide some additional context and detail on characters and events that are too small or too far removed to otherwise fit into the main series.
Edited by Chromio!
Beware spoilers in the comments!
Featured on 11th of January, 2019, the morning after first publication.
Chapters (12)