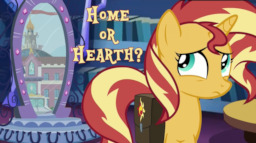 Anon-a-miss, the mysterious gossiper, plagues CHS. Caught as the perfect scapegoat, Sunset finds herself more shunned than ever before. While determined to clear her name, Sunset decides that first she needs a break. From everything. Back in the place she used to call home.
But as soon as Sunset leaves, her friends at CHS realize the depth of their mistake. Not just in accusing Sunset, but also in forgetting Sunset is not like any other human. As they try with all their might to earn back their friend's trust, they quickly come to learn that they know very little about Sunset and the world she hails from.
And worse for the girls, as Sunset begins to pick up the shards of her old life in Equestria, she begins to wonder whether she really wants to stay at CHS at all.
Chapters (11)