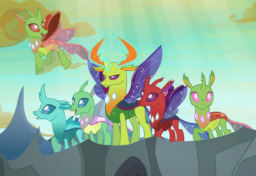 Ever since finding his place in the Crystal Empire, Thorax had dreamed of changing his people, and following the failed attempt of Chrysalis to once more conquer Equestria, he succeeded beyond his wildest dreams.
After the accidental coup d'etat that changed his kind forever, Thorax finds himself the new prince of the changelings. His new kingdom remains confused about what to do with their now changed lives and are dealing with a whole slew of emotions they never had to worry about before.
Thrust in a position of power and responsibility he neither asked for nor wants, Thorax reaches out to his friends to help him understand what it means to rule a kingdom.
Special thanks go to Carapace and his story The Village Called Respite that inspired me to write this story.
Chapters (3)