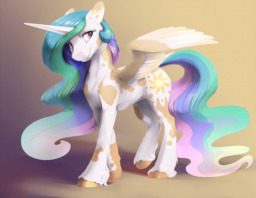 Source
Celestia and the sun are connected, to the point where when something happens to Celestia everypony can immediately see the sun acting up as well. What few ponies know is that this connection works both ways, and those times when the sun acts up, this has... certain effects on Celestia.
Celestia wants nothing more than to keep it a secret so as few ponies as possible worry about her. But keeping a secret from her stubborn, curious and loving marefriend might prove to be more difficult than she expected.
Cover image by the wonderful Silfoe, which also inspired the story idea alongside Carapace's story She Dap.
Chapters (1)