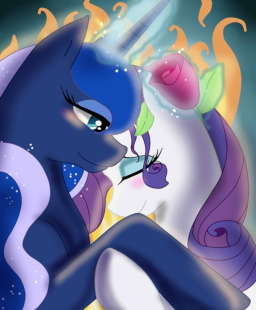 Source
Picture yourself on a deck on a castle
with damson plum trees and blackberry skies.
Somepony calls you, you answer quite slowly
a mare with kaleidoscope eyes.
Damask silk flowers of purple and blue
Towering over your horn.
Look for the mare with the moon in her eyes
and she's gone.
Follow her down to a bridge by a fountain
where grinning bat-ponies eat marbled moon pies.
Everyone smiles as you drift past the towers
that grow so incredibly high.
Newspaper taxis appear on the shore
waiting to take you away.
Climb in the back with your head in the stars
and you're gone.
Picture yourself on a train in a station
with pastel-maned ponies with sparkling gem ties.
Suddenly someone is there at the turnstyle:
the mare with kaleidoscope eyes.
Song lyrics by The Beatles and the always-amazing Jordanis.
Editing and advice from the helpful denizens of #fimfiction-spark
Cover image by lightybulb.
Chapters (1)