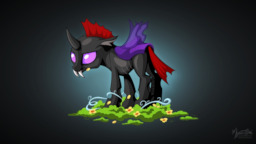 Source
When Pharynx continuously has nightmares about his old outcast issues, he comes to face two options: to open up to his brother about his issues, or to continuously let himself crack under the constant pressure, thus letting himself continue to be tormented in his sleep by his inner emotions.
---
Idea and co-written by Melody Song. It was an honor doing this with you.
Featured on 5/28/2020!
Chapters (1)