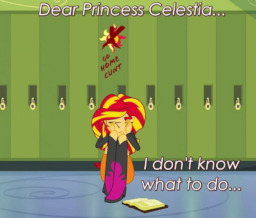 This story is a sequel to Looking Glass
---
Authorized spiritual sequel / AU to Looking Glass.
Twelve years ago, Sunset Shimmer ran away from Equestria and left her whole life behind her. In traversing the portal, she became a five year old human girl. Through trials and tribulations she grew up, eventually forgetting her true origins.
Three years ago, she learned the truth. Yesterday, her rage culminated in one night of fire and vengeance. The powers of Harmony defeated her, and offered a second chance. Change her ways and heal her heart.
Today she takes her first steps on the path to her new life.
[Updated, Edited, Re-Released.]
Chapters (2)