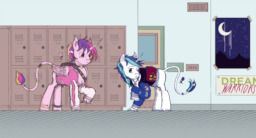 Source
In all the high schools throughout Canterlot, there's a very special day the week before prom. A day when all the fillies and colts will do their best to pluck up the courage to offer a flower to their crush. It's a shame Shining's is the Prince of Love.
He might be in just a bit over his head.
A request by SPark and Cynewulf from way back in December/January.
Preread by like half of my friends at this point (Brasta Septim, M.E. Lovecolt, Alto, Cynewulf, SPark, and Timaeus).
Cover art by Dreamingnoctis.
Chapters (1)