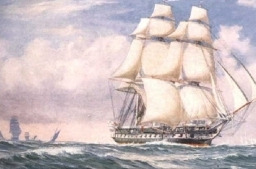 My name is The Merry Widow. And tomorrow I will die.
There comes a time in every ship's life where they have expended their usefulness, and all that awaits them is destruction at the breakers. Beneath Luna's stars in the long darkness before my death, I am given a gift, and new hope.
The Merry Widow will not die unmourned.
Appropriate Photo credit: The HMS Unicorn, a British frigate from 1894.
Title from Psalms 107:23
Chapters (1)