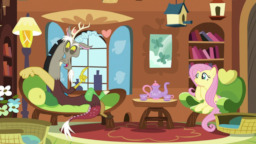 After overhearing a rumor that his friendship with Fluttershy means stallions are too afraid to date her, Discord swears that he will find her the perfect mate. Unfortunately Discord has absolutely no idea what a pony wants in their special somepony. Happily, he has many pony friends now that he can ask for advice, but no matter how much advice he gets, nothing seems to go according to plan.
Story commissioned by Spamotron.
Edited/proof read by Carapace, SilverWolfIMHP, and Lucasmembrane.
This is somewhat outside my usual comfort zone, I don't write a lot of comedy and I don't write a lot of Discord, but I had fun doing it, so hopefully you will have fun reading it.
Update: There is a NSFW "deleted scene" from this story in my new clop shortfics collection, Quickies. Feel free to check it out if you're into that.
Chapters (1)