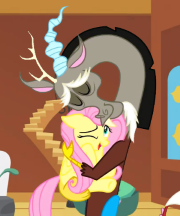 (takes place after the Season Six finale, To Where and Back Again)
Fluttershy liked company.
Well, most of the time... some of the time... it depends.
A cup of tea and a few cookies here and there weren't anything new to her, but someone sleeping over? That was out of her normal range.
Now, how about them sleeping over consistently, without ever leaving? That was weird.
Images of the Breezies surfacing in her mind, she realizes that she'll have to tell her company to go home.
But this wasn't like the Breezies.
This was Discord.
Featured on 2/8/17 - 2/9/17
Chapters (1)