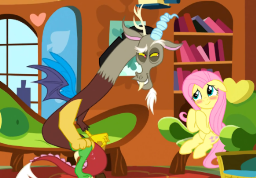 This story is a sequel to The Two with Good Taste
---
*Strongly recommended that you read the the prequel first, though not required. It will just help explain a few things.
It's been two months since Fluttershy defended her 'princess' from the crowd of mean ponies during her pet adoption event. And yet, Discord is still waiting for her to realize that they've fallen for each other. He's tried his best, but his flirting only seems to make things worse rather than better. He's growing impatient, and he doesn't know what to do.
Meanwhile, Fluttershy has grown troubled over her clashing feelings for Discord and the way he flirts with her. But when she goes on a mission to save a group of innocent souls in need, she finds herself in a troubling situation, alone and in need of help.
Sometimes, a single event is all it takes for a pony to put two and two together.
Cover by TheTalentlessPony
Chapters (1)