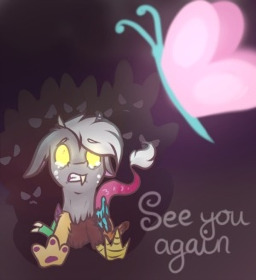 Source
Fluttershy and Discord were always connected...They just haven't remembered yet.
But they will. They always will. And they'll never say goodbye.
*Beautiful coverart by someyellowpony. Go to her tumblr to see more of her amazing work!
**inspired in part by Hubert the Butterdragon and the hit song "See You Again" by Wiz Khalifa. Because the fictional comic character and the celebrity singer that will never read this deserve credit where credit is due.
Chapters (1)