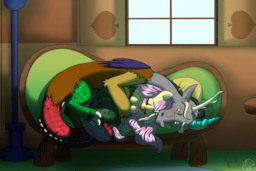 A collection of Fluttercord oneshots, all sharing a certain hair clip in common! Was originally a oneshot only, but due to request is now a collection. Just full of fluffy moments between Fluttershy and Discord, and friendshipping shan't be forgotten.
Cover by spazzymousegirl on deviantart.
Chapter Descriptions*
Nuzzle: On their way to a picnic after the Tirek escapade, Discord gives Fluttershy a gift, and in return receives affection in a puzzling way he can't describe. With the help of his friends, can he figure out what happened?
Cuddle: Fluttershy is sick, so Discord decides to take care of her. He'll get her back to health...and keep her warm.
Fly: After helping an injured bear and her cub, Fluttershy must make her way back home in the middle of a storm. Her wings too weak for the winds, she gets hurt. Who will save her? And why, oh why was she born a Pegasus if she cannot even fly? Only love can save her now.
Confess: As all of the gang enjoy each other's company after helping Applejack out at the farm, a misunderstanding happens between Discord and Fluttershy when they are caught holding tails while having a snack with their friends. They have a fight, and Discord leaves them all with a broken heart. Can Fluttershy and Discord work things out? All they have to do is fess up.
Date: After a week apart, Discord asks Fluttershy, his friend-turned-marefriend, to help him 'decorate his room'. But is that really what he's up to? Could it be...a date? But why would he lie?
Celebrate:It's been a year since Tirek's defeat. Dreams bother Discord yet again, and Fluttershy is acting suspicious around him. It becomes clear to him that she's keeping a few secrets from him, and he needs to figure out why.
*Celestia and Cadence also makes an appearance, but it won't let me add them to the character list. T_T
Chapters (6)