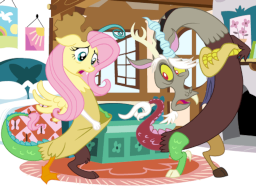 Source
Set directly after the Tirek incident, Fluttershy and Discord are suffering, alone and apart. Fluttershy may have forgiven him, but she feels that she has failed her friend, and longs to understand Discord. Why wasn't she good enough, why did he betray them? Why hadn't he cherished their friendship as much as she had?
Discord, on the other hand, struggles from the pain of his own guilt, and doesn't even know who he is anymore. He doesn't want to lose the closest friend he has either, but he's positive that their relationship will never be the same again. He can't stand it.
They're falling apart, and the magic of the earth isn't happy about it. Then a cloaked stranger comes into the picture, and plants a mysterious flower...
Fluttershy only utters a simple request. "I wish I could understand you, Discord..."
Little does she know that such a wish entails much more than just an understanding...and her wish is granted in the most chaotic of ways--and the only one who can help her is the very friend she is trying to understand.
Image by trehcedasil!!!! :D
Chapters (11)