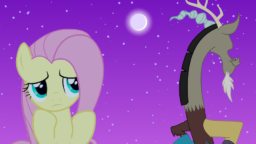 Fluttershy hears it. She hears it all the time.
Ponies always talk about Discord--they whisper about him, even when she and her friend are around them. Ugly, they say. They find him ugly! They think he's a beast!
It makes Fluttershy's heart ache. She's afraid their words are hurting Discord--that he may think he's ugly too, because of what they say.
So when she holds an event for pets in need of adoption, and the gossip starts again, can Fluttershy stand up for him?
And what in the world does Discord mean by "You'll figure it out"?!?
Cover by TheTalentlessPony
Chapters (1)