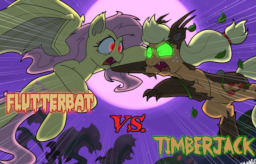 On her way back from one of Pinkie Pie's parties, Applejack was bitten by a strange timberwolf. After that night, the others noticed that Applejack has been acting a little strange. And after pony couple were attacked by a strange pony-like timberwolf, other decide to investigate. It's soon discovered that Applejack has been changed to Timberjack. And the only way to stop her is to enlist the help of a friend of the night...Flutterbat!
This fic was inspired by the original art and came from an RP with a fellow author
Co-authors: fluttercord45, GivingSpider
Featured on 10/12/15!!!


Featured on 10/24/15!!!!


Featured on 10/31/15!!!


Featured on 11/08/15!!!

Chapters (7)