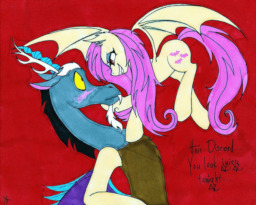 Discord received a strange letter from his dear friend Fluttershy to meet her at her cottage after dark. It said that she wanted to show him something. Curious, he ventured to her cottage. And what he found is something even he didn't see coming
Sex tag is used for suggestive themes but no actual sexual contact ensues.
teen tag just to be on the safe side.
Editor/proofreader-Crystal Wishes
Chapters (1)