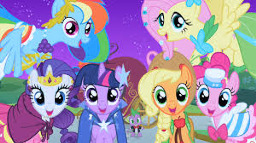 This story was writen by my good and dear friend Atomicpuffin, who sadly is not longer writing for eh MLP fandom. This is a great shame, because she truly did produce great works of fanfiction that really deserve attention. If you would like to read more of her stories click here. However, because of complex reasons I wont go to much detail into, AP has turned over the ownership of What Happens in Las Pegasus over to me. Now I want to make very clear that this story, even though is legally own by me, is the work of Atomicpuffin. I claim no credit for the creation of this wonderful story what so ever.

Now, I'll sum up shortly what happened. I was writing a genderbend of this story, with permission from AP of course, but i ran into difficulties with publishing. Long story short, to save me the trouble, AP thought it best to turn over the ownership of What Happens in Las Pegasus to me, which I am truly grateful and honored.

Once again, for those who haven't read this story or the other works by Atomicpuffin, I highly encourage it. She is a wonderful author and a true, true friend.
Discord and the girls go to Las Pegasus for a much needed vacation and to strengthen their bonds of friendship. Of course the best laid plans are the first to fall to pieces. After one night of fun the mares wake up to find a few surprises from the previous night. None more so than one pair who wake up to find they got a bit more than they bargained for...such as gold bands.
Chapters (10)