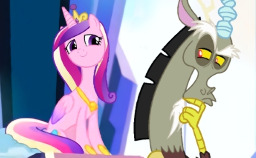 This story is a prequel to the story The Two with Good Taste.
Princess Cadance likes to keep her palace doors open for any subjects that may want to speak with her. But on this particular day, she gets a visit from a certain Draconequus...
And sheesh, is his heart loud!
Cover by TheTalentlessPony
*warning: fluttercord.
Chapters (1)