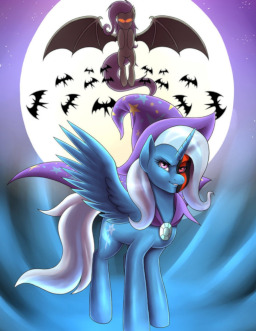 This story is a sequel to Hopes and Follies
---
The fallout begins across Equestria as Trixie and Discord's actions become more widespread, forcing a response from the princesses.
Trixie works her way towards Las Pegasus, torn between her desires to be with Twilight and her fears of what their next encounter will truly involve. Does Twilight truly want more, or was she caught up in the spur of the moment?
Fluttershy's changes have forced Discord to try to hunt her down before the princesses do. Yet the former pegasus is lost between rational thought and primal instinct, creating terror across Equestria.
Somehow, Twilight needs to balance between her interest in the newest Alicorn, and her duty to her fellow princesses. To Equestria.
Amidst the myriad of hopes and follies that make up one's actions, can there truly be a happy ending for everyone?
Only one way to find out.
Special thanks to Crowscrow and Ponyponipon3 For pre-reading and ideas. About time I finally got around to this second arc.

Cover art done by MegaBlackOX.
Chapters (1)